Universal Gage Corporation
Because
!
America's Number One Source for Air Gaging, Air Gages, Air Plugs, Air Spindles, Air Bore Gages and all Air Gage Products for Close Tolerance Dimensional Measurement.
DIGITAL COMPARATORS AND AIR GAGE TOOLING FOR PRECISION DIMENSIONAL MEASUREMENT

Air Plugs

Master Plug Gages

Special Gaging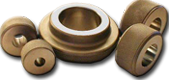 Master Ring Gages

O.D. Air Rings
Universal Gage Corporation has been supplying Air Gaging, Air Gages, Air Plugs, Air Spindles, Air Bore Gages, Digital Comparators and all Air Gage products for Precision Dimensional Measurement to Industry Since 1962.
In addition to our own line of gages Universal also manufactures tooling compatible with all other brands of air gaging including but not limited to Edmunds Gages, Mahr Federal, Western Gage, Sheffield and many others.
Universal Digital Air/Electronic comparators offer USB 2.0 interface, USB-RS485, plain RS232, RS485, Ethernet, Ethernet-RS485 communications and PC compatible data logging programming for SPC and SQC applications with no converter needed.
Universal gaging articles are manufactured, measurements are performed, and measurement & test equipment maintained in accordance with the requirements of ISO/IEC 17025:1999, ISO 10012-1, ANSI/NCSL Z540-1-1994 & -2-1997, ANSI B89.1.6M-1984, MIL-STD-45662A, MIL-STD-45208A, MIL-Q-9858, and manufacturer's specifications.
Universal master ring and plug gages are calibrated by comparison to master gage blocks traceable to the National Institute of Standards Technology, and are reported in accordance with tolerance limits for the applicable grade of accuracy stated for each item.
Universal gaging components are made of suitable materials and are processed and certified to meet stability requirements per ANSI B89.1.6M-1984, para. 2.3 as well as other specifications therein stated.
UNIVERSAL GAGE CORP. certifies all manufactured gaging traceable to the
National Institute of Standards and Technology.

Universal Gage Corporation USA
12613 Crenshaw Blvd,
Hawthorne CA 90250
Phone (310) 644-0770
Fax (310) 644-0773
Universal Gage is an
authorized Fowler distributor
(click for catalog)